MAISON LA BELLE VIE WINERY

A trip to Maison la Belle Vie would not be complete without tasting the amazing wine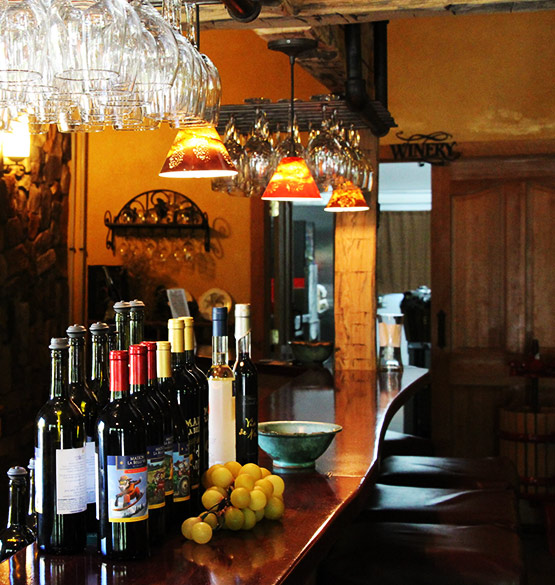 Maison la Belle Vie offers a wonderful tasting experience with a rustic, elegant tasting room & a beautiful patio with an amazing view. A visit to Maison la Belle Vie would not be complete without a tasting experience. If you would like to bring a group of at least 10 people with you and want to have an amazing dinner with great wine, give Maison la Belle Vie a call.
There are a number of wines available including a Merlot, Cabernet Sauvignon, Syrah, Rosé, and Muscat – a dessert wine that is traditional in regions of France. Small batches of Reserve wines such as Merlot, Syrah, and Petit Verdot as well as the famous Vin de Peche are available. The Vin de Peche is a wine made from a Muscat grape and peaches, a delightful recipe that has been handed down through the generations since the late 1800s. Our Vin de Noir is a handcrafted walnut wine fortified and aged for six years. A new addition to Maison la Belle Vie is a variety of white wines, including our Villard Blanc.
Coming to Maison la Belle Vie would not be complete without tasting the amazing wine that is produced by the winery. With a strong team and years of experience & expertise in winemaking, Maison la Belle Vie is sure to impress any wine lover!
If you're looking for an amazing food and wine experience, ask about our bistro with delicious food served on our beautiful patio. Featuring seasonal lunches, brunches & specialty dinners, including our famous Charcuterie board. This includes a seasonal variety of cold meats, cheeses, olives, hummus/dips, fruits & nuts, chocolate, and bread.
WINERY / RESTAURANT HOURS

SUNDAY – 11a-6p
MONDAY – 12p-6p
TUESDAY – 12p-6p
WEDNESDAY – CLOSED
THURSDAY – 12p-6p
FRIDAY – 11a-6p; Dinner 6:30p-8:00p
SATURDAY – 11a-6p; Dinner 6:30p-8:00p
TASTING ROOM POLICIES
Assorted tasting flights available, starting at $15